Glass Tile Pool Renovation
Built on slopping terrain, this impressive outdoor living space needed much love and care when our team took on this swimming pool restoration. The delaminating of the swimming pool tile was quite extensive and required a lot of attention.  In addition, cracks were repaired and the pool was elevated from a 7'0" to a 4'6" depth.
Photo credit: LSFreelancer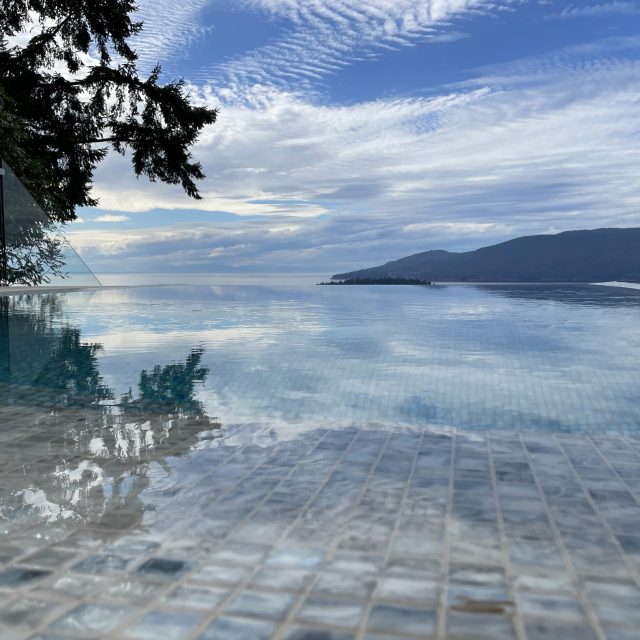 In keeping with the neutral palette and yet drawing the eye to the water elements, grey-blue 1" x 1" glass mosaic tile was used to replace the deteriorated tile.  The understated grey tones in combination with the blue reflections in the tile, transitions harmoniously from the deck to the beautiful blues of the water. The resulting hues are the perfect color match to the nearby inlet, creating the impression that the pool extends the horizon.
A set of swim jets turns this relaxing oasis into a fitness focused swimspace.  The perfect addition to enhance the healthy lifestyle of the owner, an avid tennis player. She raves about the incredible feeling to be immersed in the water while exercising with unhindered views of the surrounding forests and inlet.
For much needed rehabilitation and relaxation, a whirlpool sits behind in a spacious alcove. Protected on three sides it offers a cozy retreat, sheltered by the elements, yet embracing the stunning view.  Though slightly separated by the seating area, the whirlpool nook still has one cohesive look with the same gorgeous glass tile as the swimming pool.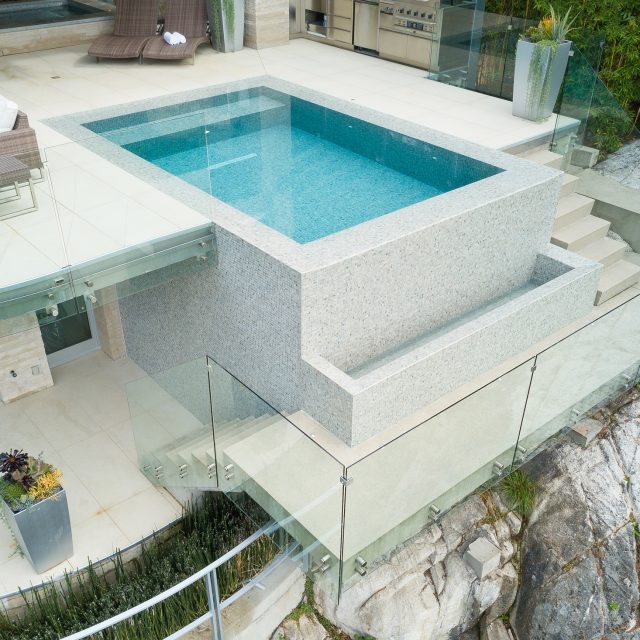 Awards
2022 Best in Canada
Residential Swimming Pool Renovation Category for the Art of Water Awards (Pool & Spa Marketing)
2021 Gold Award
Residential Swimming Pool Renovation Category for the Pool & Hot Tub Council of Canada
2021 Bronze Award
Renovation Category for the Master Pools Guild
Photographers
Want to see a specific feature? Choose from the list.