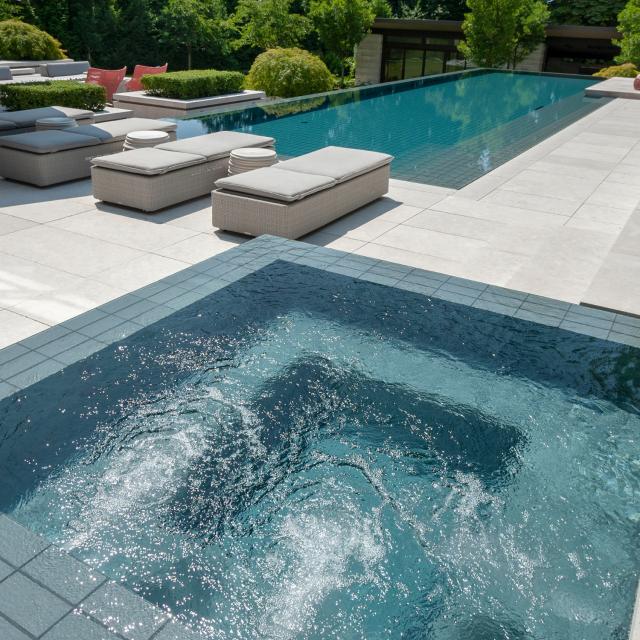 Tucked into the corner of the house like a hidden oasis, sits a sublime hot tub with a spectacular view of the lush landscape. Raised 18″ it features an infinity overflow on three sides to match the adjacent swimming pool. A neutral blue glass tile finish matches the tones of nature while still catching the eye as a focal point. With the sounds of flowing water and the tranquility of the color palette a Zen like state was achieved with this outdoor living space.
In addition to the hot tub, ALKA POOL was responsible for the complex hydraulics system of the pool, hot tub and various water features. What sets this multifaceted waterscape project apart from others is the design of both the equipment layout and the hydraulics system. Not only does the backyard swimming pool and spa share an equipment room but also the front courtyard water features. Despite looking as one cohesive, organized system, each body of water has its own set of equipment.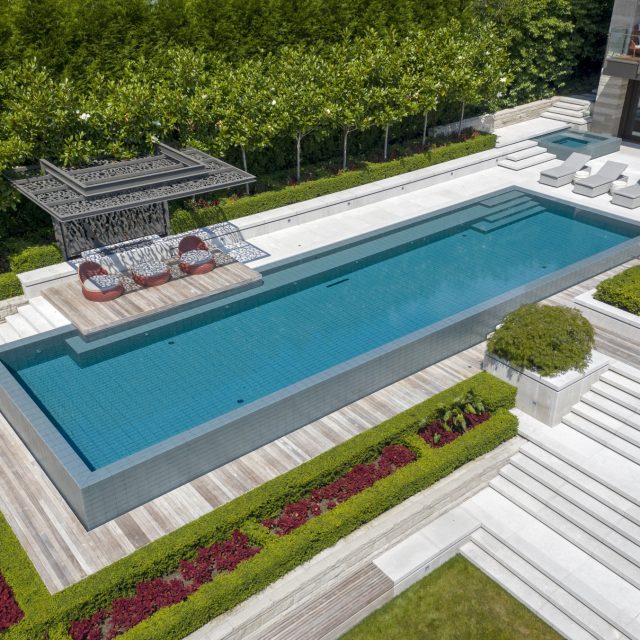 Awards
2019 Outstanding Award
Water Feature Category for the Master Pools Guild
2019 Gold Award
Mechanical/Equipment Pad Category for the Pool & Hot Tub Council of Canada
2019 Gold Award
Spa Category for the Master Pools Guild
Want to see a specific feature? Choose from the list.