This spectacular infinity pool is the king of all terraced pools with its 7'0" drop tiled in a textured slate tile and the addition of a jutting lower water feature that wraps around to conceal the parking garage. It's a bold statement as one drives up to the house and unifies both spaces by providing relief to the stark cement of the terraced walkway.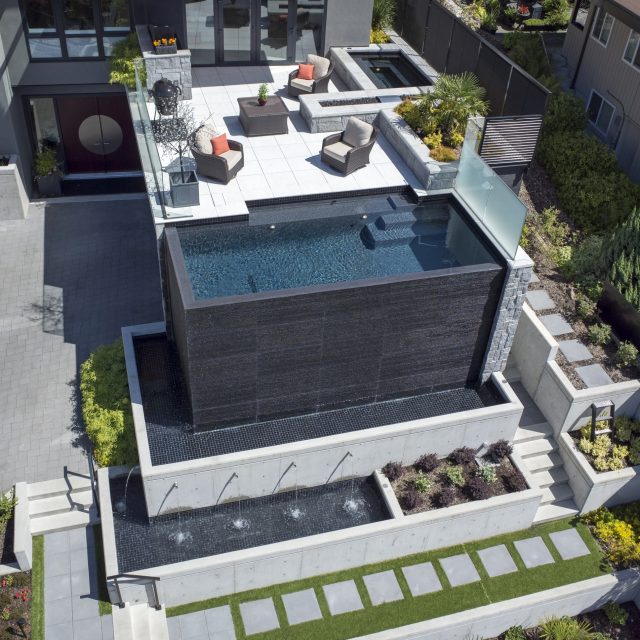 A set of custom-made stainless-steel waterspouts creates the illusion that both levels are connected as the water spills playfully into the lower trough. An intense blue-black custom blended color quartz plaster draws the heat of the sun into the infinity pool, lowering costs of heating. Once the sun sets and the pool lights are switched on, this rich colored plaster turns a cool shade of smoky aquamarine.
We are a landscape architectural firm that has been practicing for thirty-five years. The office specializes in estate gardens and has worked in Canada and the United States. It has been our pleasure to work on numerous swimming pools with Alka Pool Construction Ltd.
Our office focuses on unique pool, spa, and fountain construction. These complex designs require a team effort to accomplish results that push creativity. Alka Pool is always accommodating and a valuable component of the design team. They are not only professional at every level but fun to work with. I highly recommend their company to anyone who is looking to enhance their property with a swimming pool or spa.
- Ron Rule, Principle of Ron Rule Consultants Ltd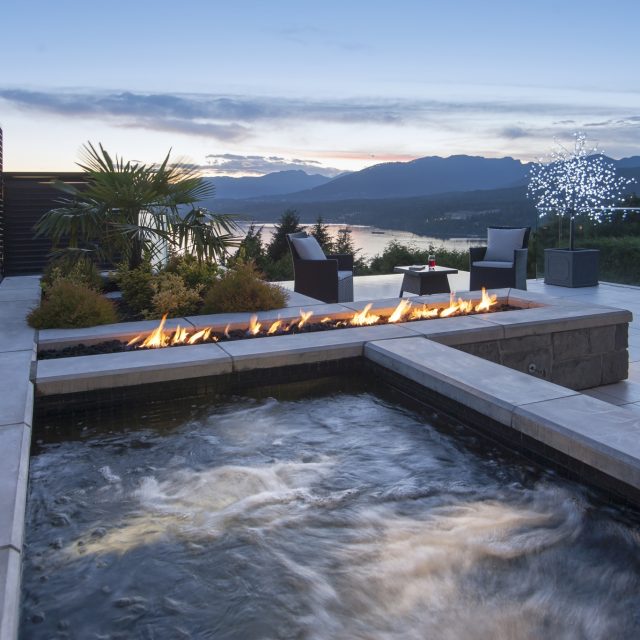 Tucked into the corner rests a cozy whirlpool with spa side controls for the clients' convenience. It is surrounded by Basalt stone and tiled in black ceramic tile to match the adjacent swimming pool. This whirlpool is the perfect spot to admire the stunning view over flickering flames of the fire pit enhanced by an endless horizon of the infinity edge.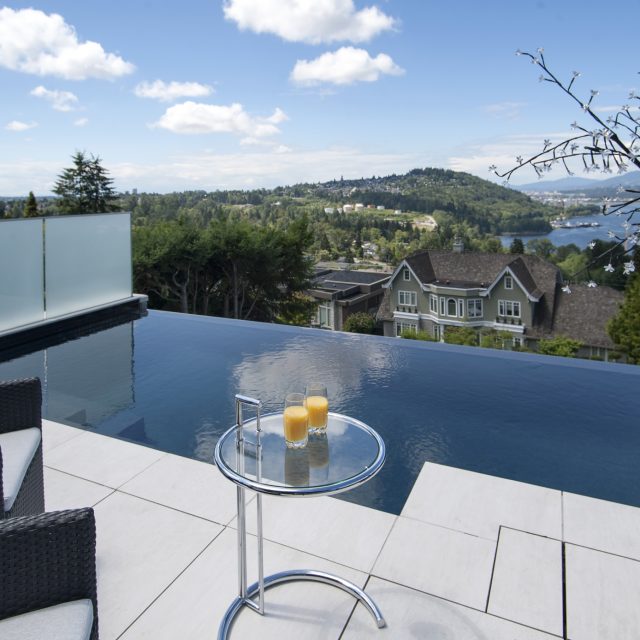 Awards
2016 Gold Award
Technical Achievement Category for the Master Pools Guild
2016 Gold Award
Spa Non-Attached Category for the Master Pools Guild
2017 Gold Award
Outdoor Concrete Pool with Water Feature Category for the Pool & Hot Tub Council of Canada
Collaborators
Ron Rule Consultants
Photographers
Bob Young Photography
Want to see a specific feature? Choose from the list.