What you should know…
One of the hottest trends in pools and home décor these past few years has been glass tile. In our area of Vancouver, BC it has been an ever-growing trend that sets the style setters apart from the followers.
Glass tile is a beautiful product that comes in so many shapes, colours and textures. It can change a pool from a basic backyard oasis to an elegant, stunning work of art. It can run from affordable to the extremely expensive and everything in between. But one thing that remains is the ability to transform any poolscape from drab to fab instantly. Ok, not really instantly but you get what I mean.
A few tips for pool owners to consider when looking at glass tile;
Tile today comes from all over the world
Here in North America, we see a lot of glass tile come from China, Mexico and Italy. Each have different qualities to attract Consumers. Some are clean lines and elegant while others have more of a handmade artesian quality. The style possibilities are endless.
What's your style? Consider your options;
Glass tile comes in clear, glass with white backing, opaque glass (venetian), rough glass and a whole host of various style, shapes and sizes.
Some are straight and consistent in sizing/shapes, while others have a more haphazard look to them.
Think about what you like to see. If you like the refraction of light to bounce off the tile pick one that is either all clear or clear with a white backing.
Only want the smoothness of glass but not the transparency? – pick a venetian glass.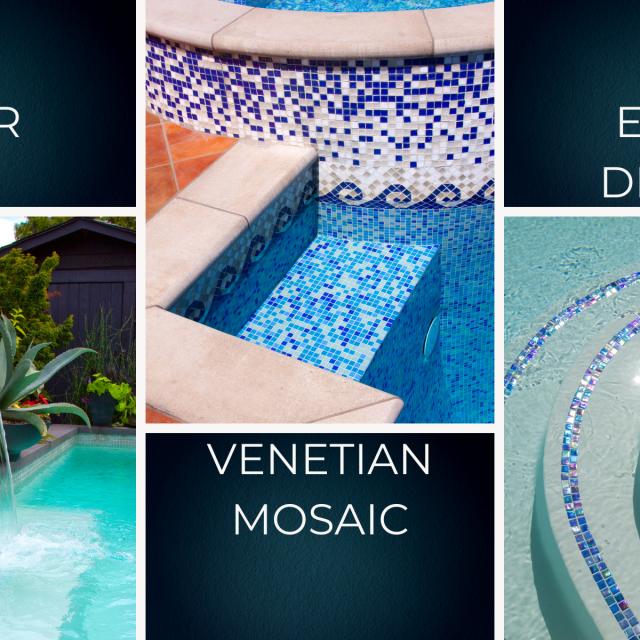 Take time at the selection stage to do your research
Whichever style, size or colour you choose, remember your personal style and the environment in which you are using it. If you like bold colours, purple may be a great option, if you prefer a more monochromatic style, matching the tile to the surrounding decking colours would suit you better.
Most common sizes we see installed in pools are 1"x1" and ¾"x ¾".
However, you can also get 1" x 2", 3/8" x 3/8" and other sizes. When looking at glass tile keep in mind a few facts. If you can see-through the tile you will be able to see the thinset bed as well. So, the white or grey thinset will show through and alter the colour of your tile accordingly, regardless of grout colour. Therefore, try to keep the grout the same colour as the setting materials for consistency of look.
Find a tile in your budget and consider the additional costs
Glass tile pricing ranges greatly. This is because of where tile is manufactured, how far it travels to us and as always, the quality. You can even get glass tile with gold specks. It's best to understand how much area you are tiling in square feet or square meters before you start shopping. That way when you are presented with prices you can do a quick calculation to see if it is in your budget. If you find you are totally in love with a tile out of your budget, consider using it as an accent only to limit your costs.
Glass tile is harder to install than regular ceramic or porcelain tile so your labour cost will be higher as well. This is due to the fact that glass tile has to be cut by hand and in individual pieces to fit in places where a full tile can't be used, especially in the curved corner of a pool where the floor meets the wall.
Also of consideration is an anti-fracture membrane. This membrane is applied immediately over the mortar bed and provides a bit of flex for the tile. In frost/freeze climates this is a must on tile bands and particularly any tiled areas which are above ground like vanishing edges. While these precautionary steps add to the initial investment it contributes to a lasting product. Many glass tile manufacturers insist on using this product under their tile.
It's wise to have a sample sheet for your tile setter to see when they price out your project. This way no one has unpleasant surprises.
Not all tile setters are skilled in glass tile and not all know what setting materials to use
Glass is smooth and so creating a solid bond for an underwater application is essential. Using the right setting materials is critical. Ask your tile setter if they have had experience in setting glass tile in underwater applications. Some tile manufacturer's, such as Bisazza, offer training certification courses in glass tile installation.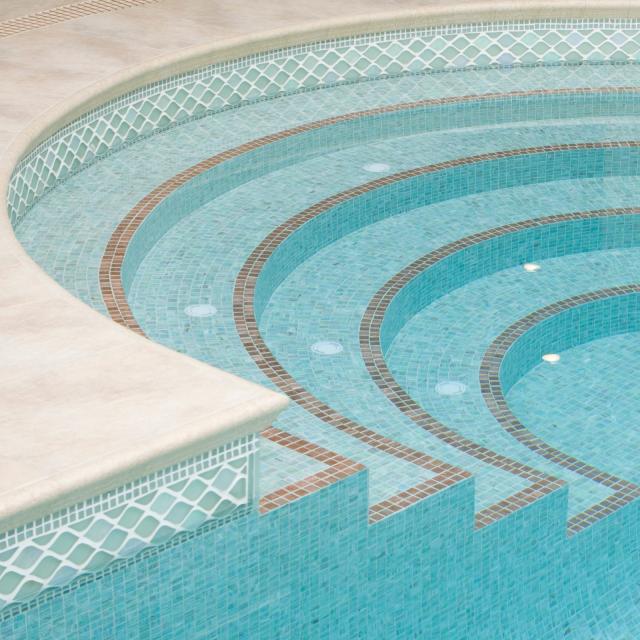 To mesh or not to mesh…
Most tile comes in sheets, generally a 12" x 12" square, held together on a mesh backing or a paper/plastic facing. For underwater applications, a paper/plastic facing is ideal. This allows the setting material full contact with the tile. With many mesh backings, sometimes the glue used to stick the mesh to the tile is over applied in the manufacturing process. This limits the bond of the setting materials to the tile. While mesh is the more popular backing available and often the more affordable choice, care needs to be taken to determine whether it is suitable for underwater applications. Some tile distributors/manufacturers have glass tile on mesh which are guaranteed for pool installation.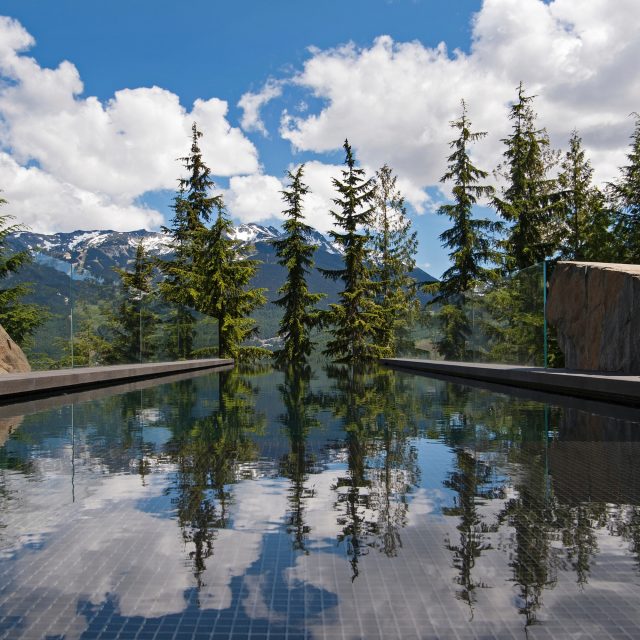 When considering where in your pool, whirlpool or waterscape you will want glass tile, think about the practical use of it. Glass is very slippery so on steps might not be the best choice. Adding one or two rows of a non-slip tile for safety can help. If you are installing glass tile in a whirlpool you might not want to install a tile that has sharp edges; sitting or leaning your back on these types of tiles can cut a person's skin as grout wears over time. These are better suited to a tile band where people rubbing up against is not an issue. Rub your hand over a non-grouted sample. If you can feel rough edges poking at your skin, you will feel the same on your whirlpool seat.
Glass tile is a wonderful and beautiful surface. A personal favourite and a top 10 trend as rated by the Master Pools Guild several times. We see this stunning finish to be even more popular in the future as prices and options in North American are becoming more consumer friendly.
There is no better way to bring that resort feel to your home than with a glorious glass tile pool and whirlpool.