Fall is one of the prettiest seasons with its ever-changing colors; leaves turning to golden yellows, warm reds and everything in between.  Spectacular sunsets light the sky with vivid colors, enticing one outdoors to soak up these autumnal delights.  What better time than now to indulge your inner designer and splurge on your extended home; the outdoor living space?
As the nights get cooler and the mornings brisker, you'll need to start thinking of warming up your patio area.  Adding a chest of blankets or draping throws onto your outdoor sofas are great ways to quickly warm up and add a touch of coziness.  Stunning firepits enhance the beauty of your swim space as the flames dance off the reflecting water.  With overhead or free-standing heaters, fireside chats will last well into the late evening making lasting memories.
Welcome the new season by changing up your patio décor with fall accents like pinecones and decorative fall leaves. Colorful tableware can be offset by golden hues from flickering candles. Feeling whimsical? Sugar pumpkins and fairy lights are a great way to transition from fall to Halloween.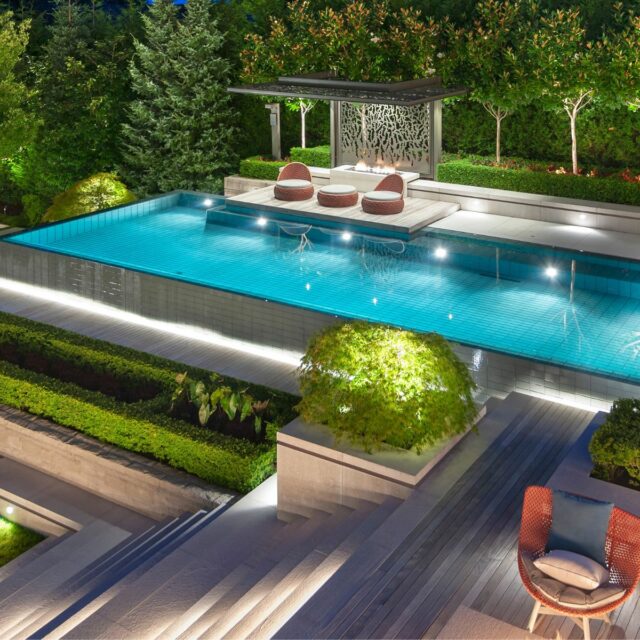 And why not get a head start on your poolside garden by planting new bulbs for spring?  That six-week window when they are covered in snow will allow the plant time to grow accustomed to and withstand the cold, making them even heartier plants in the future.  For a bold statement try the Gaillardia Fanfare; a bright sunshine yellow flower with a vibrant red center that contrasts perfectly against the cool blue tones of the swimming pool.  Looking for a softer approach? The Autumn Crocus may be more your style with its soft purple or white petals; a complement to the fresh inviting azure pool finish.
Don't have a swim space yet? It's never too early to be inspired and start planning for the new year. Start your journey by visiting Our Portfolio and embrace the fall season now!