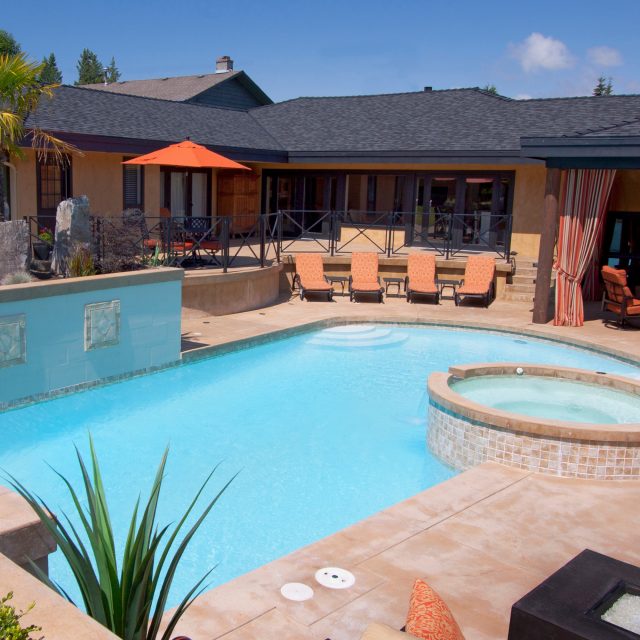 Let's Get Started
Planning your swimming pool is a very important process for any individual or family. After all this is your outdoor living room, a place for relaxing, family bonding time and vacationing in your own backyard.
Spending a little extra time in your preliminary planning stage will go a long way to ensuring your final pool is exactly as you have always dreamed. Browse our Portfolio for ideas to create your own design and style. Still not seeing your dream? We can create a design to meet your requirements, suggest other design details such as adding wonderful elements like a whirlpool or water feature to your plan.
Study your final proposal carefully to be sure you are satisfied with all aspects of your plan before work commences. Changing the plan during the course of construction can result in unanticipated delays and cost considerations. Time and effort applied during the planning stages will pay off in real dividends in the long-term enjoyment of your swimming pool.
Experience & Reliability
Swimming pool design and construction is a highly specialized field and the related technology changes continuously. The builder you ultimately choose to work with should bring to you the latest in available products, building techniques, and services. A professional swimming pool builder should possess technical expertise, imagination, and integrity. Selecting a qualified pool builder is therefore vital to the planning process.
A Professional Pool Builder should;
Carry current WCB in good standing
Carry valid general liability insurance
Be in business for many years with a proven track record and be able to provide you with a reference list of both recent and older projects.
Present their products and services fairly and on the basis of their merits without attacking competitive products and services.
Have a strong support network like a Guild or association where they can continually improve and keep up with the latest technologies.
Be involved in industry education programs, technical seminars, and trade shows where new ideas and products are displayed.
For six decades, ALKA POOL has built over 2000 custom pools. We have earned our reputation for distinctive design, uncompromised craftsmanship and unparalleled service before and after the sale. We have been continuously recognized nationally and internationally for our work with industry awards. But more importantly, ALKA POOL's staff are professional and experienced pool builders with the goal to design and build a custom pool for YOU. We want to build a pool which fits YOUR needs best and to make sure you get a pool that will give you the pleasure you deserve for years. ALKA POOL is a company that you can have confidence in.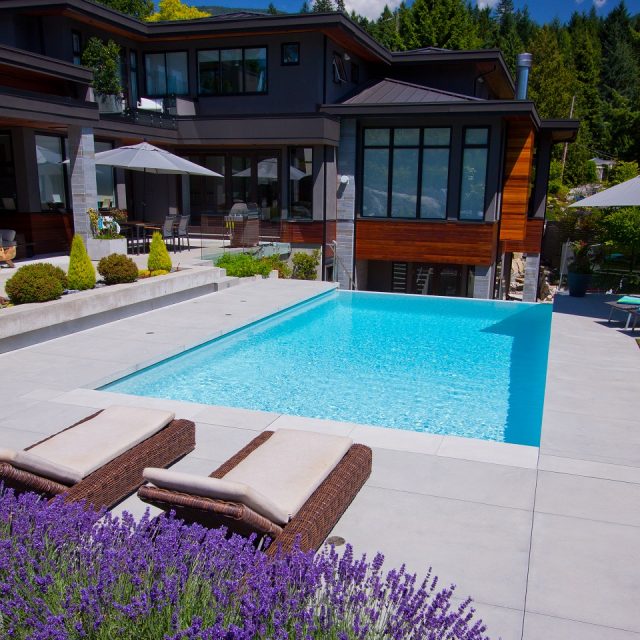 Beauty & Design
At a quick glance it may appear that all swimming pool designs are basically the same, however, this certainly is not the case. There are many different materials and methods by which pools are constructed both inside and out.
There are various types of pool shell construction; concrete, vinyl, fiberglass or steel/aluminum or polymer walls with or without separate vinyl liners. Concrete or gunite/shotcrete pools are considered the longest lasting of the pool types. The actual structural characteristics of a gunite/shotcrete pool are professionally designed with steel reinforcing to consider soil conditions, concrete formulations and building codes. The gunite/shotcrete pool requires your pool builder to have specialized skills, equipment, and methods to construct; an experienced swimming pool builder is essential. The final result is that the professionally designed concrete or gunite/shotcrete pool will provide many years of enjoyment.
The beauty of an ALKA pool goes beyond skin deep. While your swimming pool design is of great importance the efficiency of your pool's circulation system (hydraulics) is equally important.
The circulation system consists of a pump, filter and piping system. The choice of all three along with your heating system is a science in itself. Providing properly sized piping, pump and filter to keep the pool water sparkling and refreshing, while efficiently using the electrical energy for low-cost operation is an integral part of your builder's planning. Establishing good hydraulics has always been a critical part of ALKA POOL's success since the beginning. It's not just a current fad to us.
Finishing your poolscape is where the beauty comes together with quality construction. ALKA POOL pneumatically applies the plaster finish. Whether it is a traditional white plaster or one of our many coloured finishes we apply it pneumatically for a more consistent and denser finish. Together with tile and coping selections or options like all glass tile your finishes bring out your style and take an ordinary pool to extraordinary.
Ready to get started? Contact Us Today!